The All American Room
The inaugural All American Room is a display of the finest in American furnishings, textiles, and craftsmanship. This year's event is brought to you in collaboration with ASID's Mathilda Cox and the Ronald Reagan International Trade Center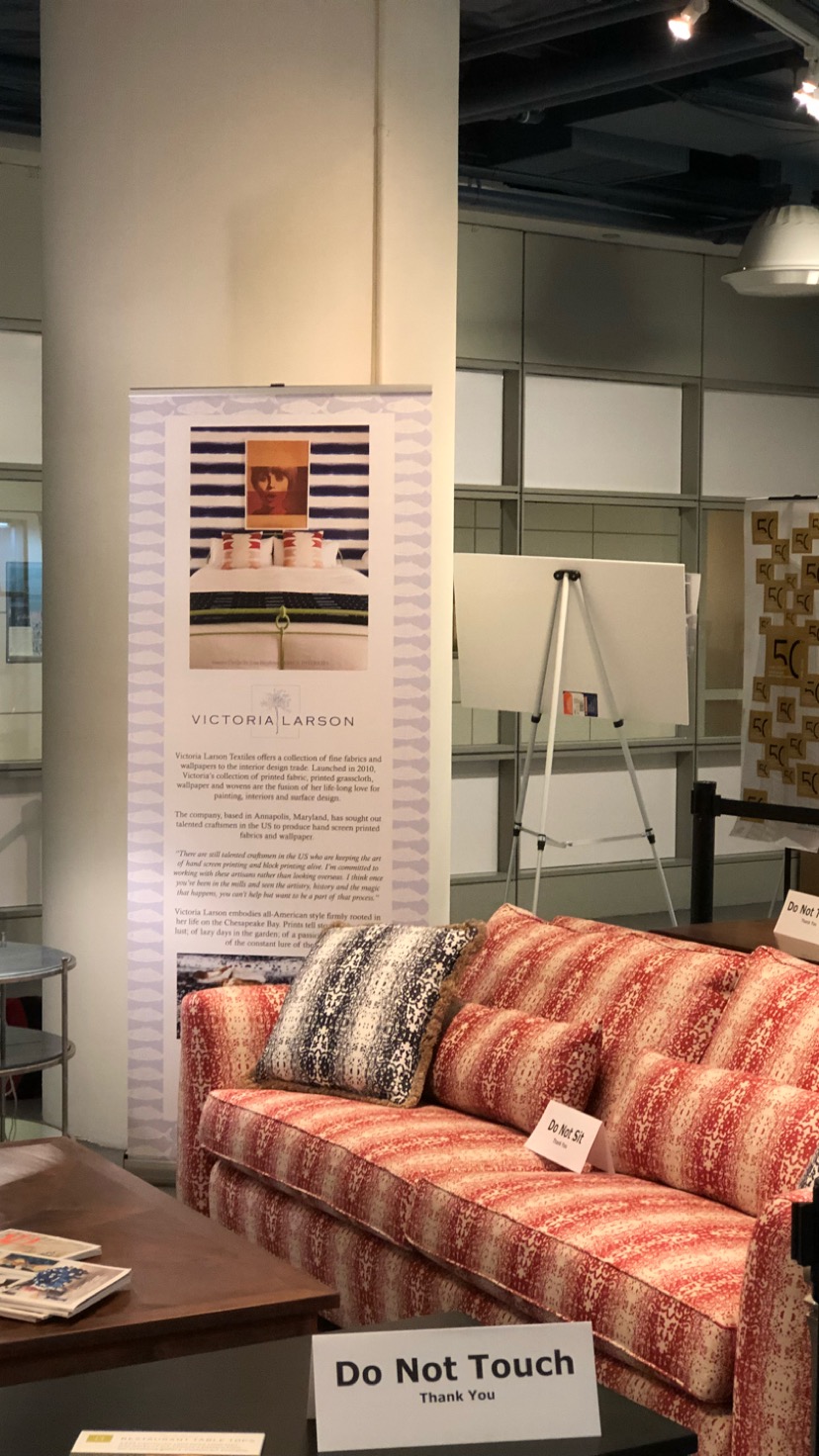 Beachley Furniture
Beachley Furniture Co. founded in 1887 by Ezra Beachley, in Hagerstown, Maryland is one of America's oldest continuously operating businesses with the original family still involved. Now run by 5th generation family member David Beachley, over 131 years each successive generations has embraced four characteristics that have established the company as an American success story: Adaptability, Innovation, Passion and Collaboration.
Beachley products are found in America's finest homes, corporate offices and cultural and educational institutions, including: AstraZeneca, Colgate-Palmolive Capital One, CBS, Johnson & Johnson, Morgan Stanley, Under Armour, American Airlines, Starbucks, The George Washington University, Johns Hopkins University, New York City Ballet, and Princeton University.
Featured in the room is a sofa upholstered in a Victoria Larson fabric, crafted in a maple hardwood frame with 8 way hand tied coil spring construction and polydown cushions. The sofas design is a synthesis of design collaborations that fully expresses the artistry and craftsmanship that are the company's hallmarks and the essence of the best American design.
1429 Mfg
In the few short years since its inception in 2016, co-founders Bridgette Hamilton and Cynthia Gross have established 1429 as a pioneer in custom furniture. With a shared interest in art, the talented design duo has created an entirely new and innovative technique that infuses art onto solid wood: "artinfusion."
By incorporating state of the art technology, 1429 creates pieces of furniture that capture the essence of Old World craftsmanship while expressing an entirely new American design aesthetic. Because of the vast potential to customize using any pattern, demand for the company's products by designers and consumers has exploded. Concurrent with the exhibition, the company is opening a showroom at the Dallas Market Center.
1429 has created their Payton Console in the Greta pattern for the room which is flanked by four custom made screens featuring an original print custom designed by Victoria Larson to envelope the space and unify the design elements.
Salvations Architectural Furnishings
Salvations name reflects its roots in our Nation's capital, recycling historically valuable artistically beautiful architectural antiques that were being carted to landfills during the renovation of Washington's homes and commercial buildings in the real estate boom of the late 1980's and early 1990's. Salvations initial inspiration was to bring new life to the weathered artifacts by incorporating them into furniture. Salvations furniture has grown from there.
With an eye for design, an impulse to create and a desire to preserve, company founder Barry Remley has become an ambassador of American design. Recognized early in her career by designers at the U.S. Department of State, Barry has a long history of working with their talented cadre of designers to create furniture and accessories for American embassies worldwide-on six continents.
Featured in the room are two had forged metal tables flanking the sofa, which were made using recycled American steel hand painted in the Maryland Silver Spring studio, both with custom hand painted glass tops.
Vicco Von voss
Imagine living in a house that appears to have grown organically from the forest surrounding it—with a clean, comfortable design, constructed entirely to the standards employed by the world's finest craftsmen. Its spaces are appointed with warm, beautifully balanced furniture—as pleasurable to observe as it is to use—durable enough for the everyday demands of family life.
Vicco Von Voss is the craftsman behind this home and workshop/ studio—a real place on the Eastern Shore of Maryland where he creates singular pieces of furniture for clients around the world. Honoring the materials used in each piece, Von Voss' furniture echoes the natural lines of the tree from which it is sourced. The product is modern American vernacular woodworking: a seamless melding of form and function with a sculptural design sensibility.
Von Voss uses only found wood from the forests of the Eastern Shore of Maryland. Within the fabric of its being, he believes, each tree tells its own story, revealing the historical record in the outline of its grain and the color of the wood. By listening to that story, Von Voss is guided by each tree's form and lines as he shapes and sculpts a piece of furniture. "In this way," says Von Voss, "I feel the tree's first life is celebrated in the new form I am giving it."
Exhibited in the room is Von Voss' Yin Yang table. The piece conveys the tension between complementary forces throughout its balanced composition. The solid expanse of the table's black walnut surface lends stability to the fluidity and movement of the springy tautness in the flared legs. The theme is continued in the lively grain of the slab's surface, embellished with a distinctive design of a yin and yang, in high and sunken relief, executed in maple burl, ebony and holly veneer, that was inspired by a natural flaw in the black walnut slab that became the design catalyst for the entire piece.
Victoria Larson
A passion for painting with the constant lure of the sea drive Victoria Larson to create textile designs that reflect life in Maryland's Chesapeake Bay region. Starting always from a sketch or a doodle based on a flash of inspiration, each original design is either rendered in watercolor or India ink, the designers tool of choice, or if the commission requires, painted in oils. Each design is then crafted by American artisans on printed on fine fabrics of every hue and color.
Featured in the All American Room / Maryland Style on the Beachley crafted sofa is Larson's signature Stardust design. Inspired by a messy session of glitter and confetti, that fabric perfectly captures the essence of a star spangled July 4 holiday. Hand screened printed on a cotton Irish linen blend, it can be ordered in five stock colors and done as a custom
niermann-weeks
A stint by a volunteer with the Wisconsin Historical Society, facilitated by the organizations manuscript curator, resulted not only in a marriage but an incredible partnership to create a fine home furnishings company whose designs are firmly grounded in historical reality.
Literally working in the midst of an historical preservation project, a 20 room mansion in Memphis, Tennessee no less. Joe Niermann and Eleanor McKay launched what today has become one of America's most iconic furniture and home accessories makers.
Based in Maryland since 1985, Niermann-Weeks facility in Millersville is a an artisanal workshop that has shaped and redefined America's design aesthetic. Alongside their parents, Claire and Eleanor Niermann, continue to break new ground by employ cutting edge technology and embracing modern eco-friendly approaches to hand crafting timeless designs that define the essence the modern American design aesthetic.
Featured in the All American Room / Maryland Style are the companies Palissy Floor Lamp, a shimmering column lamp crafted of small silvered glass tube, accentuated by shiny silver leaf collar and base, the Caronia Table lamp in white lacquer. Also featured is the Parquet Coffee Table, made of solid American Cherry with an Orleans Walnut finish resting on four legs.